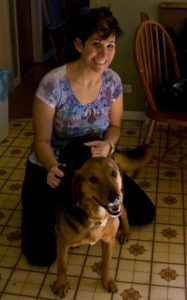 Good Sit's owner, Steph Haddad, is a lifelong animal lover. Though she didn't grow up with pets of her own, she always found ways to be around cats and dogs as her neighbors had many. As she grew up and went to school, she became interested in training and rescuing animals. After getting her degree (in fine art!) she spent time first volunteering then working at the Champaign County Humane Society, where she was exposed to a large variety of temperaments, breeds, and learning the networking needs of dogs and cats who need new homes.
As an Animal Care worker, she did basic training, cleaning, grooming, caring, and socializing dogs, working hard to make sure that dogs who were in "holding" could get time outdoors and de-stressing despite their new, strange environment.
Having spent that time at the animal shelter from all those years ago, she uses her knowledge to help others while staying on top of the news for animal welfare. Steph helps network animals in need of adoption as well as place dogs with trainers and behaviorists who fit their needs. Now settled into the Bay Area, she's made a small business of walking dogs and petsitting.
While she loves all dogs, Steph has a particular soft spot for all guard dog breeds, from shepherds to bullies, and especially enjoys working with them. Her experience has taught her that all dogs are individuals, and they deserve a chance to grow and have a good life on their terms.
The stats:
Ten years of experience with dogs and cats caretaking
Currently in exams for Dog*tec Dog Walking Academy certification
Dogsafe Canine First Aid certified
Service locations:
Steph is currently working with pets between Redwood City and Santa Clara. Check on the Services section to see how Good Sit can help your family!
Paid internships available
Interested in our internship program? Learn how to run your own business while taking care of companion animals. More information coming soon! Contact us to get on the inside.
Who is that black dog I see?
It's Mindy!
Mindy is Steph's dog, who tags along from time to time with dog-friendly dogs. She is a 75 pound German Shepherd mix who is a good reader of what other dogs want. At 4 years old, she has matured into a playful and respectful adult who loves playing with puppies or just going on a walk with another dog. Get her on the beach and she turns into a zoomie puppy herself!
Mindy was adopted from Companions in Waiting, a dog and cat rescue based in Half Moon Bay, California. You can watch her antics on her own little instagram, Coach Mindy Dog.